Remember, Thanos still demands your silence.
Directors Joe Russo and Anthony Russo on Tuesday tweeted a plea to Marvel fans asking for their help.
The Russo Brothers request was asking Marvel fans who watch the Avengers Endgame movie when in releases next week, not to spoil the movie for others.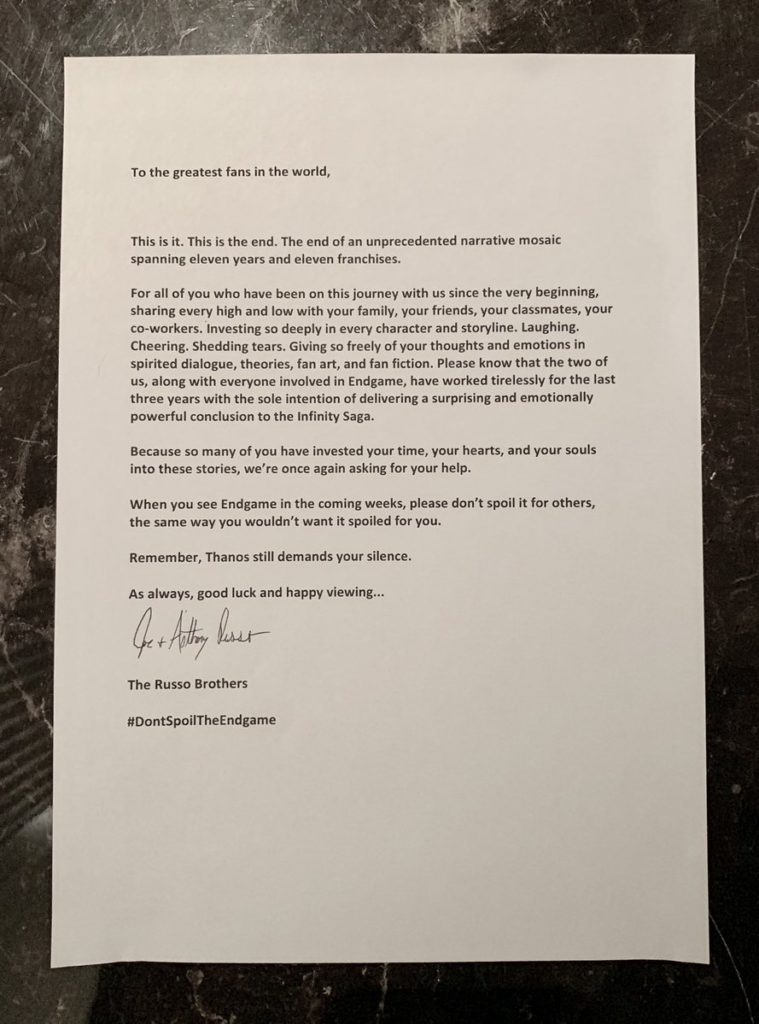 "Please know that the two of us, along with everyone involved in Endgame, have worked tirelessly for the last three years with the sole intention of delivering a surprising and emotionally powerful conclusion to the Infinity Saga," the Russo Brothers wrote in the Public letter.
"This is it. This is the end. The end of an unprecedented narrative mossiac spanning eleven years and eleven franchises." they said.
The interesting part of the letter was the Russo Brothers ended the letter with #DontSpoilTheEndgame hashtag.
Apparently the Russo Brothers letter came after leaked Avengers Endgame footage was leaked on to the internet. The video clips are of different parts of the movie which adds up to close to 5 mins.
We urge Marvel fans who are sensitive to spoilers not to view these leaked footage.
Definitely we know that there are another group of Marvel fans who can't wait to see the movie and go on a hunt to find these leaked footage.
Remembering what Thanos said in Avengers Infinity War, "Perfectly balanced as all things should be." We too believe there should be a balance. Fans who do not want to be spoiled and fans who don't mind being spoiled.
Avengers Endgame is scheduled to be released in USA on 26 Apr 2019.
Catch the latest teaser for Avengers Endgame.
Stan Lee died last year on 12 Nov 2018 and we hope to see how Stan Lee will be remembered in Captain Marvel and Avengers: Endgame.
So in honor for Stan Lee, we will sign off this post with his famous catch phrase.
Excelsior!