Singer-songwriter Leon Redbone died 30 May 2019 Thursday, his family confirmed.
Leon Redbone was born on 26 August 1949 in Cyprus and was known as Dickran Gobalian.
Leon Redbone is know for his old school vaudeville and Tin Pan Alley-style music, released 16 full length albums over his career. He retired in the year 2015 due to unspecified health problems.
"It is with heavy hearts we announce that early this morning, May 30th 2019, Leon Redbone crossed the delta for that beautiful shore at the age of 127." was written on a post on Leon Redbone's website with some humor about the late singer's age being 127.
"He departed our world with his guitar, his trusty companion Rover, and a simple tip of his hat. He's interested to see what Blind Blake, Emmet, and Jelly Roll have been up to in his absence, and has plans for rousing sing along number with Sari Barabas."
"An eternity of pouring through texts in the Library of Ashurbanipal will be a welcome repose, perhaps followed by a shot of two of whisky with Lee Morse, and some long overdue discussion with his favorite Uncle, Suppiluliuma I of the Hitties."
"To his fans, friends, and loving family who have already been missing him so in this realm he says, "Oh behave yourselves. Thank you…. and good evening everybody.""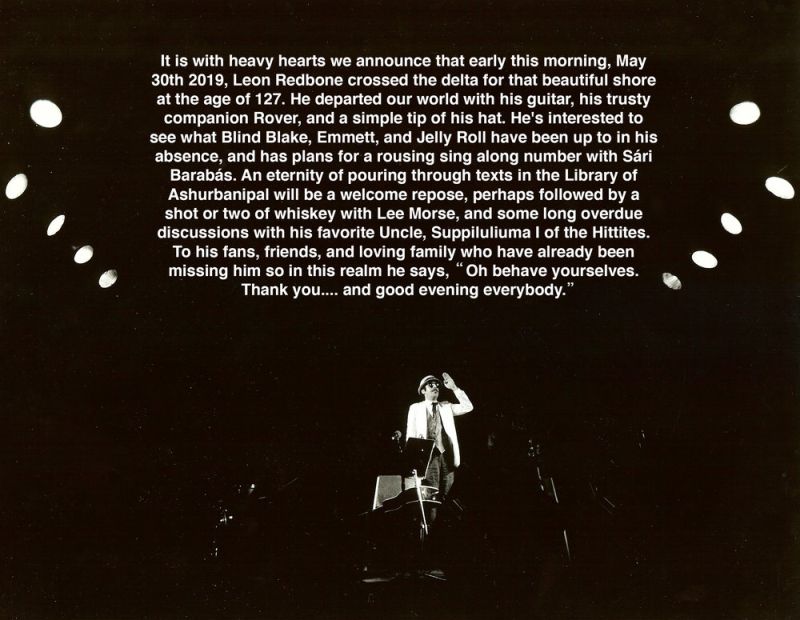 Leon Redbone is survived by his wife Beryl Handler, his daughters Blake and Ashley and three grandchildren, Devin, Amberley and Holland.