Bring Tony Stark back to life, that's what the petition to Marvel says which was started by a marvel fan Meline Loiseau has started on Change.org together with 11 others.
In the latest Marvel movie Avengers Endgame, the iconic character Tony Stark who is played by actor Robert Downey Jr makes the ultimate sacrifice on the big screen.
During the climatic ending battle in the Movie Avengers Endgame, Tony Stark who is also known as Iron Man battled the mad Titan Thanos and wrestled for the Infinity Gems.
Once Tony Stark got possessions of the Infinity stones, Tony said the iconic catchphrase "I am Ironman" after which he snaps his fingers which then decimates and turns Thanos and his army into dust.
However Tony Stark did not survive the energy emitted from the snap and ends of dying from the process and fans were shown Tony's funeral at the end of Avengers Endgame movie.
Now that the Tony Stark A.K.A Ironman character in the Marvel Cinematic universe has met his demise, many fans are heartbroken that they will no longer see Tony Stark in future MCU movies.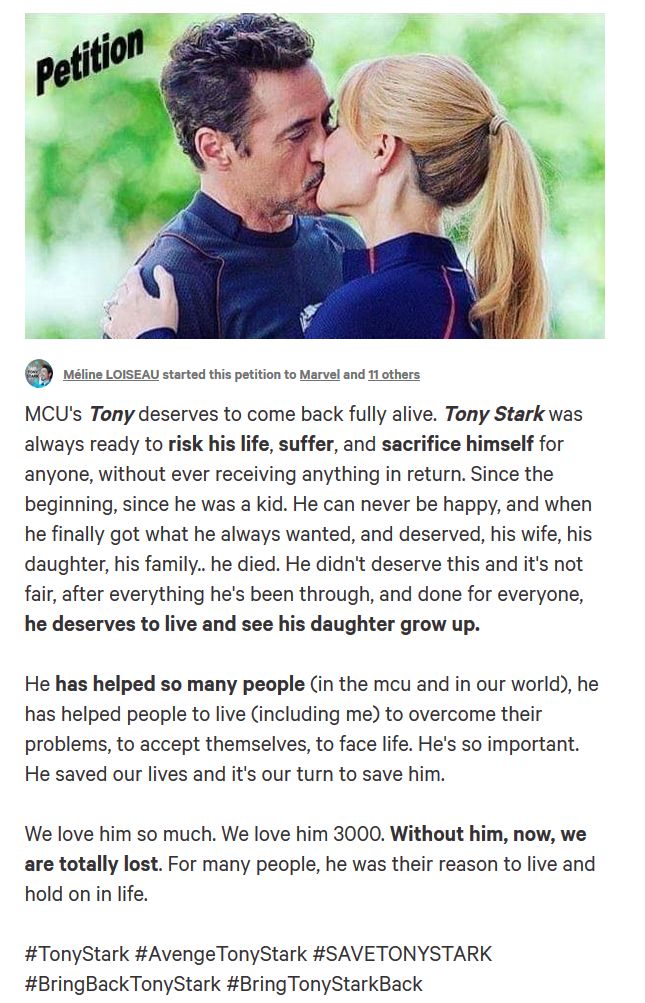 "We love him so much. We love him 3000. Without him, now, we are totally lost. For many people, he was their reason to live and hold on in life." the marvel fan wrote on the petition found on change.org website. "He didn't deserve this and it's not fair, after everything he's been through, and done for everyone, he deserves to live and see his daughter grow up."
#TonyStark #AvengeTonyStark #SAVETONYSTARK #BringBackTonyStark #BringTonyStarkBack
Relive the moments again and again. Marvel Studios' #AvengersEndgame is now playing in theaters. Get tickets: https://t.co/93jQYXiBfa pic.twitter.com/eUJ8eMZvny

— The Avengers (@Avengers) May 24, 2019
The actor Robert Downey Jr started portraying as Tony Stark since the year 2008 with the first Ironman film and has been in 10 marvel films since then, check out the list below!
Iron Man (2008)
The Incredible Hulk (2008) cameo
Iron Man 2 (2010)
The Avengers (2012)
Iron Man 3 (2013)
Avengers: Age of Ultron (2015)
Captain America: Civil War (2016)
Spider-Man: Homecoming (2017)
Avengers: Infinity War (2018)
Avengers: Endgame (2019)
From the year of 2008 all the way to 2019, that makes a total of 11 years of as Tony Stark, its no wonder many marvel fans has grown attached to the actor's role as Tony Stark.
It is understandable that some people just can't get enough of Ironman and wish Robert Downey Jr come back for more Tony Stark Ironman action.
Of course nobody could ever expect an actor to take on the same role forever. Robert Downey Jr has already clocked 11 years as the character Tony Stark. Perhaps its time for the actor to put the the super hero mantle down and look at other choices in life.
One thing that did come across our minds was to switch out actors to take over the Tony Stark character in future MCU movies.
You know like how they replaced Don Cheadle replaced Terrence Howard as James "Rhodey" Rhodes War Machine.
Anybody remembered Ross Marquand replacing Hugo Weaving as the Red Skull, or Mark Ruffalo replacing Edward Norton as Bruce Banner. Get the picture already?
Whether or not Marvel decides to bring Tony Stark back from the dead, we are sure that Marvel fans out there will be excited to see how the future movies play out to be.