It's a whole new world with Guy Ritchie's live-action Aladdin remake.
Disney just tweeted their magical new version of "A Whole New World" on twitter. The song is sung by Zayn Malik and Zhavia Ward which is set to play in this year's Aladdin (2019) film's end credits.
#Aladdin #AWholeNewWorld
✨ @zaynmalik + @ZhaviaWard take you wonder by wonder with their magical new version of "A Whole New World" from #Aladdin – song out now, film in theatres May 24. https://t.co/xjYv7dUVFs pic.twitter.com/FvGA4ViDjN

— Disney Music (@DisneyMusic) May 9, 2019
"A Whole New World" Out Now! Film in theatres May 24!" Zayn Malik tweeted on his twitter account.
"It's finally out ! It was really hard to keep this a secret ! I'm so happy to be a part of this incredible song "A Whole New World" with zaynmalik for Disney's Aladdin movie!" Zhavia Ward tweeted. "Hope you all love it!"
On social media, many have started to comment that Zayn Malik should have played as Aladdin. Well who wouldn't give that comment, Zayn Malik does look very much like the animated version of Aladdin from the 1992 cartoon.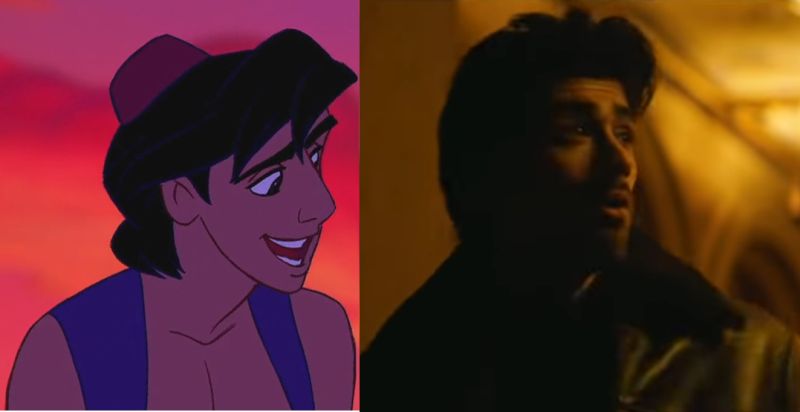 Aladdin is scheduled to be released in the cinemas on 24 May 2019 in the United States starring Mena Massoud as street rat Aladdin, Will Smith as the comical blue Genie, Naomi Scott as Princess Jasmine and Marwan Kenzari as the Sorcerer Jafar.
.@DisneyMusic .@disneyaladdin .@ZhaviaWard "A Whole New World" Out Now! Film in theatres May 24! pic.twitter.com/c1QC8xkQvE

— zayn (@zaynmalik) May 9, 2019
It's finally out ! It was really hard to keep this a secret ! I'm so happy to be a part of this incredible song "A Whole New World" with @zaynmalik for @Disney's #Aladdin movie! Hope you all love it ! ❤️https://t.co/2oc4YYKOOx pic.twitter.com/0gTpHIuFBV

— Zhavia (@ZhaviaWard) May 9, 2019
Disney just tweeted their magical new version of "A Whole New World" sung by Zayn Malik and Zhavia Ward for this year's Aladdin remake.https://t.co/H1xeRbRosP#Aladdin #AWholeNewWorld #ZaynMalik #ZhaviaWard #Disney

— Kupocity (@kupocity) May 9, 2019