A Boeing 737 passenger plane may have collided with a drone. According the the crew members, they heard a "pretty loud bang" just before the plane was about to land.
The pilots were able to land the Boeing 737 plane safely without any injuries.
Pictures shared on social media shows that the plane's nose has been damaged.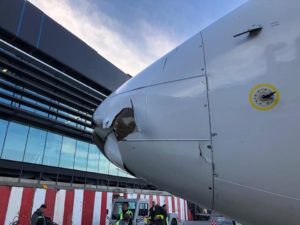 As shown in the picture, there is a lack of blood or feathers on the damaged area of the plane's nose. This leads to a flying drone being the main suspect of the collision.
Grupo Aeromexico SAB has started their investigation on the incident to discover the exact cause of the collision.