Nasi lemak was highlighted in Google doodle on Thursday 31 Jan 2019.
Google even has a Youtube video of how a typical Nasi lemak is prepared.
Nasi Lemak is the national dish of Malaysia and is eaten by many Malaysians at the start of their day. Nasi Lemak is also popular in Singapore and Thailand.
The name Nasi Lemak translates from the Malay language as "rice rice". According to Google doodle, it quoted the following legend:
"the daughter of a widow named Mak Kuntum accidentally spilled coconut milk into the rice pot. "What did you cook?" Mak asked and her daughter answered. "Nasi le, Mak!" (Rice, mother!)"
The dish Nasi Lemak is familiar to many ethnic groups, Malay , Chinese, Indians, and many other groups. The parts of the dish that makes it stand out is that the rice is usually cooked with coconut milk and flavored with pandan leaf. According to Google doodle, sometimes the rice is also cooked with santan and flavored with galangal root.
Another signature part of the dish is its ikan bilis (fried anchovies) and crispy peanuts. With these ingredients we add on sliced cucumber, a fried egg and sambal hot sauce. For meat typically would be a piece of fried chicken or beef rendang.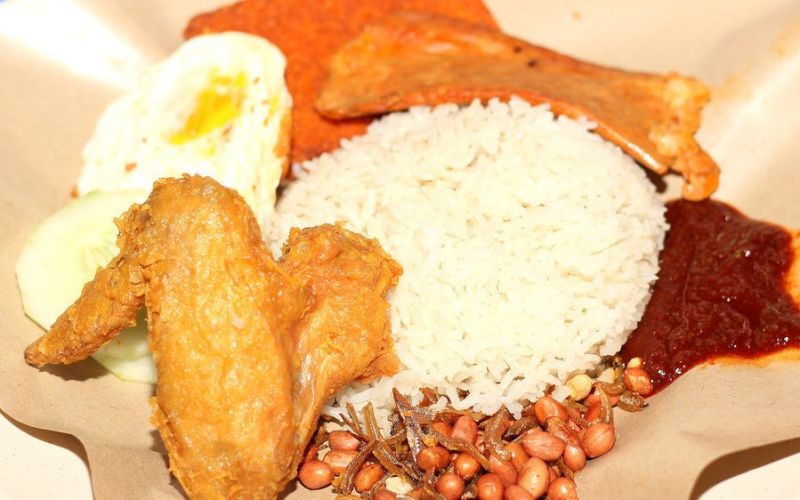 Nowadays in Malaysia and Singapore, Nasi Lemak is prepared and sold in road side shops wrapped in banana leaf with chill samba at the side. At times people add Otah (grilled fish cake) as an additional side dish to complement the already delicious Nasi Lemak.
Over the years Nasi Lemak has become so popular that its not only eaten for breakfast. It has become a meal for lunch , dinner and even supper!