Arnold Schwarzenegger says he wishes he could travel back in time just like the movie "The Terminator". His purpose? So that he could stop fossil fuels from being used. This time his mission isn't to eliminate the leader of the human resistance. Instead his intention is to 'time travel' to save the globe. Now that makes a good new movie plot.
Arnold Schwarzenegger is in KATOWICE, Poland where the COP24 is taking place. COP24 is the informal name for the 24th Conference of the Parties to the United Nations Framework Convention on Climate Change.
"If we would've never started in that direction and used other technology, we'd be much better off," Arnold Schwarzenegger said at the start of the COP24 on Monday. He also added that "The biggest evil is fossil fuels: it's coal, it's gasoline, it's the natural gas,"
Arnold Schwarzenegger also insisted that the United States was "still in" an international accord to curb global warming despite U.S. President Donald Trump's decision to walk away from the agreement.
Calling Trump "meshugge" – Yiddish for "crazy" – for abandoning the accord, Schwarzenegger said the 2015 agreement has widespread support at the local and state levels even if the federal government isn't on board.
American states, cities, businesses and citizens can do a lot to curb global warming, and representatives from those arenas should be invited to next year's climate conference, he told the audience in Poland.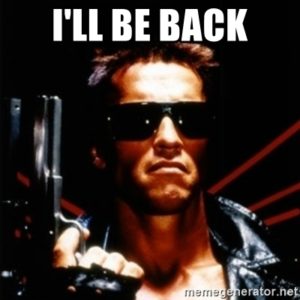 "And if you do that, I promise you: I'll be back," which is a popular catchphrase associated with Arnold Schwarzenegger back when he acted in the movie "The Terminator".
Speaking about "The Terminator" which was a movie back in 1984, we can't help but to compare Arnold's current photo vs how he looked like back in 1984. He is starting to have more facial hair. He was born on 30 July 1947, that would make him 71 years old. We wish him all the best to the future!