While browsing social media, our Kupocity Team happen to come across two articles which mentioned that Aloysius Pang's bone chips was crafted into a keepsake glass locket.
The first article was posted 2 weeks ago on 30 Jan 2019, on the Facebook page going by the name of Precious Lifetime Memories – Breastmilk & DNA Keepsake Jewellery Singapore.
From the first article's contents, we learnt that the family of Aloysius has decided to engage the services of turning his remains into keepsakes.
The Facebook article mentioned "For now, we can only embrace what's left to create an everlasting keepsake for your loved ones."
The article continued with "We would like to specially thank Kenny for giving us the opportunity to craft such a precious and meaningful keepsake. Crafting your remains on your day 7, I hope it brings some consolation to your family."
The second article was posted on 09 Feb 2019. In this article was mentioned "His bone chips have been crafted into our 'Mighty Lover' Glass Locket to symbolise how much love the family has for him."
"The Pang family requested using his ashes in our Champagne Gold Foil European Beads, so they could bring him around everywhere conveniently." the article mentioned.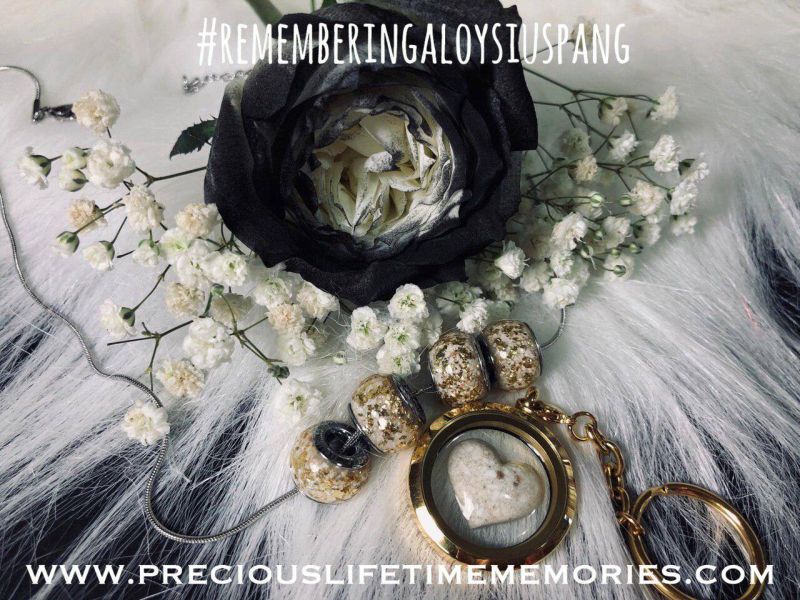 Aloysius Pang died while he was participating in Exercise Thunder Warrior, at Waiouru Training Area, New Zealand on 23 Jan 2019.
His body was flown back on a Republic of Singapore Air Force KC-135R tanker which was sent to repatriate his body.
After a two-day wake at Macpherson Lane, Aloysius Pang was accorded the full honours of a military funeral. He was cremated at Mandai Crematorium on 27 Jan 2019 and his ashes was buried at sea near Pulau Ubin on 28 Jan 2019.
Rest in Peace Aloysius Pang.
Related Articles: