Love is in the air, that is at least what a Russian woman think was happening. Apparently she was chatting with a scammer who faked his identity as the actor Chris Hemsworth who portrays Thor in Marvel movies.
The 42 year old woman told police her marriage was going thru hard times. That was when she received a tweet from the scammer who was posing as Chris Hemsworth.
She said told the local newspaper:
Our marriage was going well until recently when we had several serious arguments.
Our relations went quite sour, and just then the actor sent me a message on Twitter.
The message apparently read: 'Hey, I am Chris Hemsworth, I am a famous actor from Australia, I live in California. You are so pretty, can we chat?'
'I am not a fan, but he is still a very attractive man,' said the Siberian woman.
'I checked him online and saw that he was married and had three children.
'I thought, what if he was in the same situation as I was, that on the face of it we were both married and at the same time very lonely.'
An Irkutsk city police that the woman was later contacted by Chris's lawyer who told her that the actor was having some money issues and need money to pay for visa , insurance and parking for his jet in Siberia. The lawyer then asked the woman to transfer money to him and also sent a picture of Chris's driver license.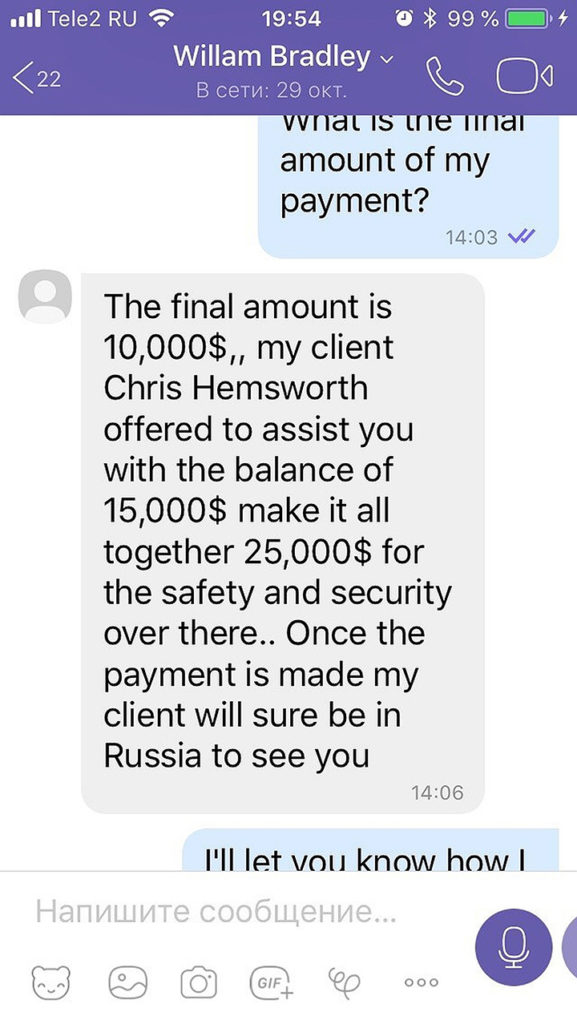 The woman believing the story is true, went to take a loan and paid the scammer the money, after which his social media account was deleted vanishing into thin air along with her money.
Scammers nowadays are getting more innovative. Most people that we know of are knowledgeable and can easily tell when you meet a scammer. We notice from this incident that the woman fell pray to the scammer, most likely because of her marriage problems placing herself at her weakest point. Scammers just need to keep endlessly trying till they find an unlucky victim.