The world has lost another world famous icon. This time its a kangaroo named Roger from Australia living at Kangaroo Sanctuary. The kangaroo was 12 years old when he died.
Roger became famous back in 2015 when a photo of him crushing a metal bucket went viral, which many commented it was like crushing a paper cup.
In 2006 when Roger was just a joey (baby kangaroo), his mother was killed in a car accident. Chris Barnes then rescued Roger from his mother's pouch. Later Chris went to set up a sanctuary for Roger to live in.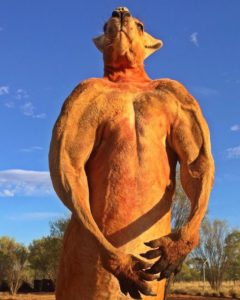 Over time Roger grew up to be more than 2m tall and weighted 89kg. Roger's uniqueness is his ripped chest which earned him the nickname Roger the ripped kangaroo.
Roger is the alpha male in the Kangaroo Sanctuary where he is staying and has 12 partners.
About a year ago the sanctuary revealed that Roger was starting to show signs of old age. Among the conditions was arthritis , weight lost and failing eye sight.
After Roger's death, Chris Barnes said that the Kangaroo was buried in the Sanctuary, so that "he will always be here", and be close to his family.