Holy Cow, now that is what we call the biggest cow. Meet Knickers, a  7 year old Holstein Friesian from Myalup, Western Australia. The cow stands at 6ft 4in and weights close to 1.4 tons.
Now imagine having a piece of steak from this cow. Big Fat and Juicy! Well lucky for the cow, people won't be getting to have a bite on him. "He was too big to go into the export plant's chain," Geoff Pearson, who owns the Lake Preston cattle farm told ABC News. Due to his size he has been saved from being sent to the slaughterhouse.
Whats with his name Knickers?
As to why is the cow named Knickers, the owner Pearson told BBC that: "When he was young, when we first got him, we had a Brahman steer [a breed of cattle] which was a friend of his. "So, his name was Bra…so we [had] Bra and Knickers."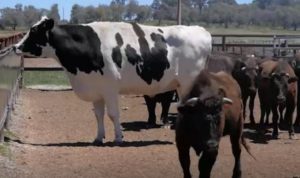 Pearson said that Knickers is popular with the rest of his cows despite his large size. "You'll put him in a paddock and all the other cattle seem to get attracted to him," Pearson told ABC News. "Whenever he wants to get up and start walking, there's a trail of hundreds of cattle following him. We all know when Knickers is on the move."
How does his size compares to others?
We did some reading up, and we checked that a Holstein Friesian male usually weights about 1,500 lbs. on average, that would equal to 0.75 tons. Knickers weights 1.4 tons. That would mean Knickers is almost 2 times heavier when you compare him to his own breed.