Hong Kong's police headquarters has been surrounded by thousands of protesters wearing black clothes on Friday 21 Jun 2019, calling for the extradition bill to be completely withdrawn.
Apparently Friday's protest did not obtain any official protest permits. It was started on social media and spread virally across Hong Kong.
The protester crowds consist of mostly the young wearing black clothes together with with helmets and face masks.
The protest was mostly peaceful, with protesters chanting slogans and throwing eggs at the police complex.
The police had asked protesters to withdraw peacefully, saying their presence would "seriously affect" emergency services.
Millions of people have marched against the extradition bill in recent weeks, with violent clashes breaking out with police.
Hong Kong Leader Chief Executive Carrie Lam had announced that the said extradition bill was suspended as of last Saturday 15 Jun 2019.
However the suspension of the bill was not enough to appease protesters as they demand that it should be completely withdrawn.
The protest comes a day after the government ignored a deadline set by a group of students from various universities in Hong Kong, who called for the bill to be completely scrapped.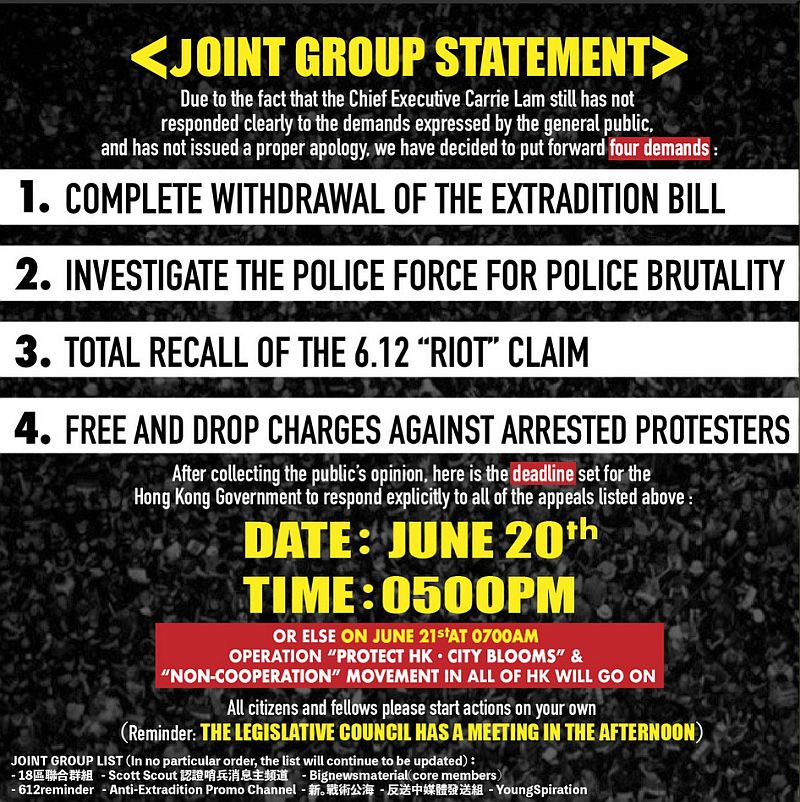 #香港人 6月20號見#antiELAB #antiELABhk #hongkongers pic.twitter.com/lrXotd3ptL

— ForHongKong (@Home__Kong) June 19, 2019
On Twitter platform, a Joint group statement was found posted by a group with the name "ForHongKong" indicating the 4 demands made.
---
<JOINT GROUP STATEMENT>
Due to the fact that the Chief Executive Carrie Lam still has not responded clearly to the demands expressed by the general public, and has not issued a proper apology, we have decided to put forward four demands:
Complete Withdrawal of the Extradition Bill.
Investigate the Police Force for Police Brutality
Total Recall of the 6.12 "Riot" claim
Free and drop charges against arrested protesters
After collecting the public's opinion, here is the deadline set for the Hong Kong Government to respond explicitly to all of the appeals listed above:
Date: June 20th
Time: 0500pm
Or else on June 21st at 0700am Operation "Protect HK. City Blooms" & "Non-Cooperation" movement in all of HK will go on.
---
(Spread it out) (Eng sub)Anti extradition law amendment bill.
SEE YOU TOMORROW.#universalsuffrage #antiELAB #hk #HongKong #香港 #反送終 #洋紫荊革命 #黑色洋紫荊 #中国 #香港デモ #protests #demonstrators #antielab대 #홍콩 #중국 #데모 #시위 #香港人加油 #香港加油 pic.twitter.com/s5nmIOPFj7

— ForHongKong (@Home__Kong) June 20, 2019
Within the same twitter account of the group group named "ForHongKong", an animated video was found which contains English subtitles further explaining their demands. However there seem to be some difference as compared to the previous image posted.
---
We are a group of Hong Kongers who love our city dearly…
But that only makes us more certain. We hereby state our demands again.
Full Withdrawal of the Extradition Bill.

Retraction of the Characterisation of the Protest as a Riot.

We demand the release of all arrested protesters

Accountability for Police Brutality. 

Resignation of Carrie Lam
---