Massive number of people in Hong Kong took the the streets on Sunday 16 Jun 2019 dressed in black to demand Carrie Lam to step down from her Chief Executive position.
Protest organizers claimed that nearly 2 million people marched on the 16 Jun 2019 protest, however Hong Kong police estimated the figure at 338,000 people at its peak number counted based on the "original agreed procession route."
This comes a day after she announced to suspend the extradition bill which will allow suspects to be extradited to mainland China.
Some protesters were holding banners saying, "Do not shoot, we are HongKonger". This was done to avoid a repeat of violence that took place on Wednesday when the police used rubber bullets and tear gas on the protesters.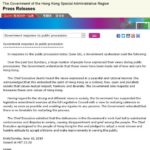 According to the press release from the Hong Kong Government, Chief Executive Carrie Lam apologised to the people of Hong Kong and pledged to adopt a sincere and humble attitude to accept criticisms and make improvements in serving the public.
---
Government response to public procession
**********************************
In response to the public procession today (June 16), a Government spokesman said the following:
Over the past two Sundays, a large number of people have expressed their views during public processions. The Government understands that these views have been made out of love and care for Hong Kong.
The Chief Executive clearly heard the views expressed in a peaceful and rational manner. She acknowledged that this embodied the spirit of Hong Kong as a civilised, free, open and pluralistic society that values mutual respect, harmony and diversity. The Government also respects and treasures these core values of Hong Kong.
Having regard to the strong and different views in society, the Government has suspended the legislative amendment exercise at the full Legislative Council with a view to restoring calmness in society as soon as possible and avoiding any injuries to any persons. The Government reiterated that there is no timetable for restarting the process.
The Chief Executive admitted that the deficiencies in the Government's work had led to substantial controversies and disputes in society, causing disappointment and grief among the people. The Chief Executive apologised to the people of Hong Kong for this and pledged to adopt a most sincere and humble attitude to accept criticisms and make improvements in serving the public.
Ends/Sunday, June 16, 2019
Issued at HKT 21:26
---